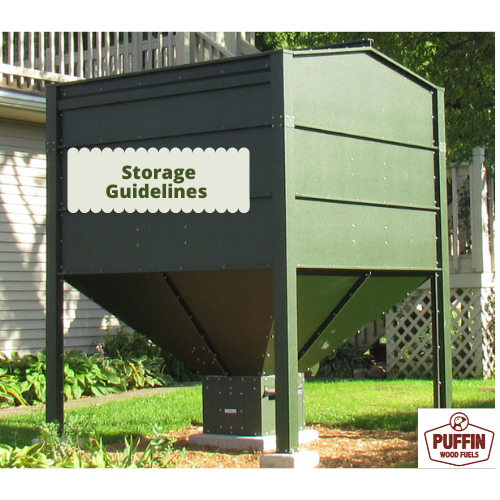 Pellets must be protected from moisture. The size of the pellet store depends on the annual consumption. Only approximately

 two thirds of the storage space can typically filled with pellets when blow in through feed pipes. (1 m³ corresponds to approx. 650 kg of pellets).

The pellet storage room must be ventilated to the outside. Filling and suction nozzles must be available so that the pellets can be blown in from the outside with a tank truck and air can be sucked out at the same time. This process is necessary to prevent overpressure.

The filling nozzles (Storz A / 110) may be located a maximum of 2 m above the stand area and must be provided with ventilated sealing caps.

The filling lines must be made of metal, twist-proof and earthed. They should be led outdoors and have as few changes in direction as possible (avoid 90 ° bends).

The distance between the filling nozzle and the upper edge of the pipe should be approx. 20 cm.
An impact protection against the blow-in opening is to be attached.

Storage room walls must be integrated into the masonry and ceiling, electrical and water installations must be avoided in the storage room, but if absolutely necessary, they must be concealed.

For DIY enthusiasts, the DEPV offers help with the brochure

"Recommendations for the storage of wood pellets"

. Note that British building and fire protection regulations may differ from this.

Before entering the storage room, it must be ventilated for at least 15 minutes and ventilation must be maintained while entering.